In Israel today, there are over 400,000 children who do not have a family that can care for them adequately and who are deemed 'at risk'.
Rather than seeing them condemned to a lifetime of welfare dependency, perpetuating cycles of abuse and neglect, Youth Aliyah Child Rescue offers a ladder of opportunity to Israel's most vulnerable children – including immigrants and children of immigrants from Ethiopia, the former Soviet Union and elsewhere in the world.
Each rung of this ladder is a step up from a life of poverty, neglect and violence – climbing towards a positive and successful future where they become contributing members of Israeli society, living happy and fulfilling lives.
By providing a warm and supportive home in one of our five youth villages, children from as young as 5 years old can live together in safety. Through an individualised therapeutic approach, we find the key to unlock each child's potential, allowing them to heal from their traumatic pasts and to break the cycle of poverty and neglect.
Our pioneering educational methodology, which we call the 'Village Way', has empowered thousands of young people to live the lives they truly deserve. Graduates of our youth villages experience higher than average employment rates, army leadership roles and matriculation rates.
Youth Aliyah Child Rescue is a charity that is funded entirely by the generosity of our donors. You can support us by making a donation or by getting involved in a number of ways.
Our history
Since the organisation was founded in 1933, Youth Aliyah Child Rescue has been dedicated to saving and improving children's lives.
The very same day that Hitler came to power in 1933 Berlin, Recha Freier, a determined woman with incredible courage, created an organisation that would later come to be known as 'Youth Aliyah' in order to save as many at risk Jewish children in Germany as she could. In the harrowing years that followed, Freier's bravery and foresight resulted in thousands of Jewish children travelling across Europe to safety in to (then) Palestine and Great Britain.
After World War Two ended, Youth Aliyah continued to dedicate its resources towards helping at risk children 'make aliyah' to Israel and once there, to acclimatise and cope with all the language and socio-economic challenges this brought.
Together with the Jewish Agency's Henrietta Szold, Youth Aliyah forged relationships with Jewish communities around the world to support displaced children. Our charity was formed and one of our earliest accomplishments was the founding of Yemin Orde Youth Village, named for British Army Officer Orde Wingate.
Over the years we shifted our focus away from facilitating aliyah and towards solely caring for at risk children living in Israel. Initially this was limited to new immigrants, many arriving without their families, but today almost 50% of our children were born in Israel to immigrant and native families alike.
In 1999 the organisation added the words 'Child Rescue' to its name in order to better reflect our primary work of rescuing children and young people from a life of trauma and in many cases severe danger. Although we don't help people 'make aliyah' to Israel (as the name somewhat misleadingly implies) Freier's original vision remains at the very heart of everything we do, and the spirit of her values sit at our core.
Today Youth Aliyah Child Rescue continues to work tirelessly to bring as many vulnerable, traumatised children as possible to safety in our youth villages. Unfortunately, the number of children in need far exceeds the number that we are able to provide for in our youth villages, which is why the Israeli Ministry of Education encouraged the formation of the Village Way.
Youth Aliyah Child Rescue provides a ladder of opportunity empowering young people to climb from poverty, neglect and violence up towards becoming fulfilled, contributing, invaluable members of Israeli society. This concept is absolutely intrinsic and fundamental to our work, so in 2019 we updated our branding so that this was reflected visually. The H's in our name form a ladder in the logo and also echo the shape of a Torah scroll, as a representation of the Jewish sprit and values that permeate through everything we do.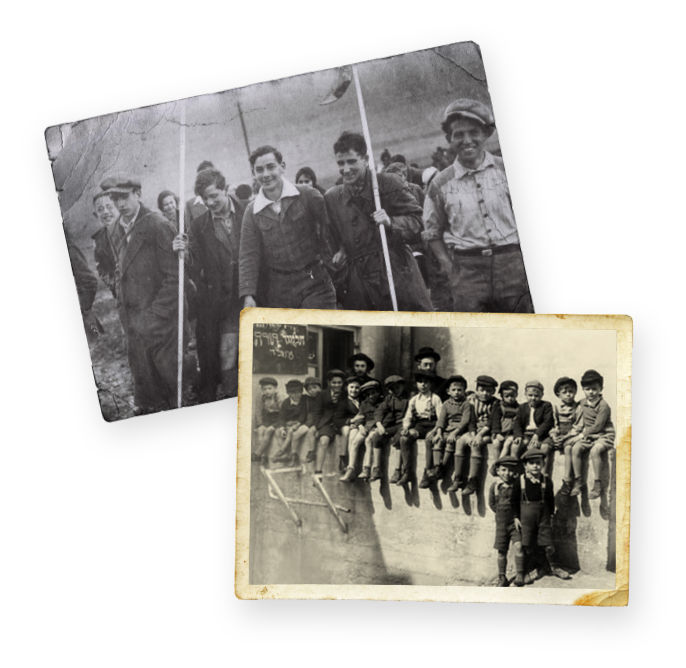 Keep in touch
Sign up to receive news about YACR projects and campaigns by email