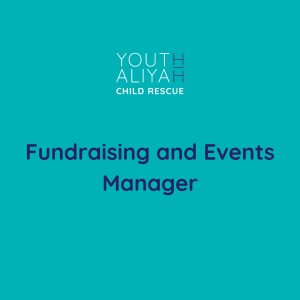 Job Description
Role Title:                   Fundraising and Events Manager
Reports to:                 Chief Executive Officer
Status:                        Full Time (will consider 4 days)
Salary:                        Circa £32,500
Location:                    Finchley Central, option to work from home part time
Summary
Youth Aliyah Child Rescue is looking for a creative, professional, and organised Fundraising and Events Manager with outstanding interpersonal skills to manage the charity's engagement with supporters and the wider community. This includes overseeing established events and developing new opportunities.
Being part of a small, dedicated team gives the right candidate the chance to make a profound and lasting impact on the future of the charity and on the lives of the children we support.
Reporting to the Chief Executive Officer, and working alongside other internal and external stakeholders, the ideal candidate will be proactive and will ensure that all fundraising activities are executed to the highest standard and in line with charity mission, vision, and values.
As we approach our 90th anniversary, we have an exciting and busy time ahead.
Key Working Relationships
CEO and internal staff
Trustees
Fundraising Committee members
Donors
Vendors and Contractors
Key Responsibilities
Work closely with CEO to create and adapt a 3-year plan for fundraising and community engagement
Oversee all aspects of our biennial gala dinner, annual sports dinner, and other in-person events throughout the year
Work with our representative in Israel to plan a group visit to our Youth Villages during Pesach, as well as individual donor visits at other times
Continue to develop and promote Bar Mitzvah and patronage programmes and support their participants
Develop and nurture relationships with schools and synagogues and coordinate fundraising efforts with them
Secure speaking opportunities for CEO or self
Apply to synagogues to be recipients of their Kol Nidrei appeals
Recruit and manage volunteers for event committees
Work with CEO to identify potential major donors
Collaborate with CEO and Marketing Manager to create content for marketing and event materials
Attend trustee and committee meetings and take minutes (shared responsibility)
Enter donations into database when Database Manager is not working (shared responsibility)
Act as an ambassador for the charity
Work flexibly to assist other team members, as time allows
Essential Skills and Experience
Excellent communication skills in a range of settings
Excellent organisational and project management skills
Strong interpersonal skills and the ability to work with people at all levels
A self-starter able to act on initiative
Proficient user of Microsoft Office, including Word, Excel, PowerPoint
Ability to work with confidential information, in line with GDPR requirements
Desirable Skills and Experience
Experience in a comparable role in the charity sector
Experience working in Raiser's Edge or similar CRM
Learn more about us
To apply
We look forward to hearing from you!