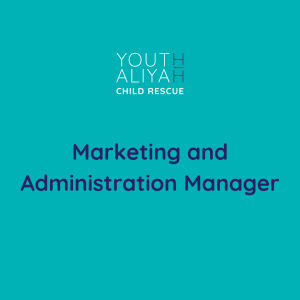 Job Description
Role Title:                   Marketing and Administration Manager
Reports to:                 Chief Executive Officer
Status:                        Full Time
Salary:                        Circa £32,500
Location:                    Finchley Central, option to work from home part time
Summary
Youth Aliyah Child Rescue is looking for a creative, professional, and organised Marketing and Administration Manager with outstanding interpersonal skills to manage multi-channel direct fundraising and marketing campaigns and to lead the creation of Youth Aliyah Child Rescue's advertising, marketing, fundraising and events materials.
Being part of a small, dedicated team gives the right candidate the chance to make a profound and lasting impact on the future of the charity and on the lives of the children we support.
Reporting to the Chief Executive Officer, and working alongside other internal and external stakeholders, the ideal candidate will be proactive and will ensure that all marketing activities are executed to the highest standard and in line with charity mission, vision, and values.
As we approach our 90th anniversary, we have an exciting and busy time ahead.
Key Working Relationships
CEO and internal staff
Trustees and Committee members
Vendors and Contractors
Key Responsibilities
Create two appeals, to be posted before Rosh Hashanah and Pesach each year, including writing copy and overseeing design, printing and posting.
Using content from our Youth Villages, create winter and summer newsletters each year, including writing copy and overseeing design, printing and posting.
Work with designers to create ads for print media.
Create and manage regular content for social media and e-blasts.
Write progress reports for internal and external stakeholders that inspire ongoing engagement.
With CEO, create content for grant writing
Manage the charity's website, including creating new content and curating images, in collaboration with the villages and programmes that we support.
Manage event brochures, including communicating with advertisers, managing design and overseeing printing and distribution.
Collaborate with staff and committee members to create content for event materials (invitations, menu cards, etc).
Create materials to support new and existing programmes, including Patronage, Legacy and Bnei Mitzvah Programmes
Write and distribute press releases, advertorials and letters to donors.
Manage the charity's annual plan for advertising and PR.
Assist with our gala dinner and other events throughout the year.
Organise quarterly trustee meetings, including scheduling, securing location and writing agenda.
Attend trustee and committee meetings and take minutes (shared responsibility)
Enter donations into database when Database Manager is not working (shared responsibility)
Act as an ambassador for the charity
Work flexibly to assist other team members, as time allows
Essential Skills and Experience
Excellent written and verbal communication skills
Excellent organisational and project management skills
Strong interpersonal skills and the ability to work with people at all levels
A self-starter able to act on initiative
Proficient user of Microsoft Office, including Word, Excel, PowerPoint
Ability to work with confidential information, in line with GDPR requirements
Desirable Skills and Experience
Experience in a comparable role in the charity sector
Experience working in Raiser's Edge or similar CRM
Copywriting experience
Grant writing experience
Learn more about us
To apply
We look forward to hearing from you!